About The Show
Deep Fried Bytes is an audio talk show with a Southern flavor hosted by technologists and developers Keith Elder and Chris Woodruff. The show discusses a wide range of topics including application development, operating systems and technology in general. Anything is fair game if it plugs into the wall or takes a battery.
Deep Fried Bytes Theme Ringtones
Ringtone for iPhone here
Ringtone for Andriod and Windows Mobile here
Connect With The Show
There are multiple ways to connect with the show and the hosts. Twitter and Facebook are great ways to connect, share comments, show ideas, and connect with other show fans.
http://twitter.com/deepfriedbytes

http://www.facebook.com/group.php?gid=16906187863
Keith's Bio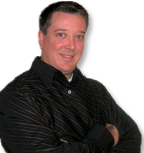 Keith Elder is the co-host of the popular online technology podcast Deep Fried Bytes. He is also a Director of Software Engineering at Quicken Loans, the nation's largest online lender based in Detroit, MI and is the founder of the Hattiesburg, MS .Net User Group called Hub City NUG. Keith is an experienced technologist, systems, administrator, software engineer, speaker, trainer and all around geek.
As an experienced educator, trainer and speaker he has logged thousands of hours in front of the classroom teaching students of varying ages from the 6th grade to the college level. He has trained countless developers from various business sectors ranging from top auto manufactures, fortune 500 companies and Universities.
As a Microsoft MVP he speaks throughout the United States at major technical conferences, Code Camps, and .Net User Groups. Keith's ability to explain complex topics with a friendly common sense southern attitude make him a highly regarded speaker at technical conferences. You can read more about Keith's interests, hobbies, rants and raves on his blog at http://keithelder.net/.
http://twitter.com/keithelder
Woody's Bio
Chris Woodruff (or Woody as he is commonly known as) has a degree in Computer Science from Michigan State University's College of Engineering. Woody has been developing and architecting software solutions for almost 15 years and has worked in many different platforms and tools. He is a community leader, helping such events as Day of .NET Ann Arbor, West Michigan Day of .NET and CodeMash. He was also instrumental in bringing the popular Give Camp event to Western Michigan where technology professionals lend their time and development expertise to assist local non-profits. As a speaker and podcaster, Woody has spoken and discussed a variety of topics, including database design and open source. He is a Microsoft MVP in Data Platform Development and was recently recognized as one of the top 20 MVPs world-wide. Woody works at Perficient, Inc. as a Technical Lead Consultant.
Woody is the co-host of the popular podcast "Deep Fried Bytes" and blogs at
www.chriswoodruff.com
. He is the President of the West Michigan .NET User Group and also is a co-founder of the software architecture online portal
nPlus1.org
.
Woody has worked in many arenas throughout the years, including healthcare, manufacturing, publishing, promotion execution and the automotive industry. He has experience with starting and running new ventures, including past work with technology startups. Woody continues to develop his expertise by learning & developing new technologies to better meet the needs of his clients, while devoting his free time to improving the development community at large, and giving back to the community in which he lives.
http://twitter.com/cwoodruff